Amref Heath Africa stands at the forefront of community health system strengthening initiatives that empower health care providers to continue working towards providing universal health coverage and improving the health of their community. In Ethiopia, Amref works with government and local stakeholders to addresses longstanding skill and knowledge gaps seen in maternal and child health in the most remote and pastoralist regions, including Afar, Gambella, and Benishangul Gumuz. Since 2012, GlaxoSmithKline (GSK) has partnered with Amref Health Africa in Ethiopia to support this mission and to provide health systems strengthening support across the nation.
With support from GSK, Amref Health Africa in Ethiopia works in close collaboration with selected regional health bureaus and Health Science Colleges to continue improvements in maternal and child health outcomes witnessed over recent decades. Amref works with the Ministry of Health Human Resource for Health (HRH) Directorate, providing technical support to the Health Extension Program. Through the provision of a series of capacity building trainings to health extension workers (HEWs) and midwives, Amref has witnessed significant increases in the number of skilled female birth attendants, who go on to provide community level health services and effectively assist pregnant women in antenatal care, labor, delivery, and postnatal care. Additionally, Amref's health systems strengthening initiatives support regional level expansion of infrastructure such as the construction of health posts and expansion of training centers for health science colleges.
Sedik Ahmed, Dean of Semera Health Science College in Afar applauded Amref-GSK's support for the difference it has made in maternal and child health in the region, particularly through the training of midwives and HEWs. He stated, "Previously, you could hardly see Afar mothers going to health facilities to receive any health care services. One reason is because of a lack of access to health facilities nearby but, even those who had access refused to go because there were no skilled female birth attendants at health facilities. Women in this area are shy to go to the health facilities where male health workers provide pregnancy and delivery related services, which is culturally improper. Mothers are now using health facilities, as there are female skilled birth attendants whom they become comfortable with. Amref's contribution to this effect is commendable," Sedik said.
Amref collaborates with Semera Health Science College to strengthen the capacity of the institution by training HEWs and midwives. Over the last six years, 110 midwifery students have graduated and have been assigned to different health facilities within the region. They are now able to provide grassroots services to the community.  "This has partly been possible because of Amref Health Africa, with the support of GSK and other funding agencies,'' Sedik acknowledged.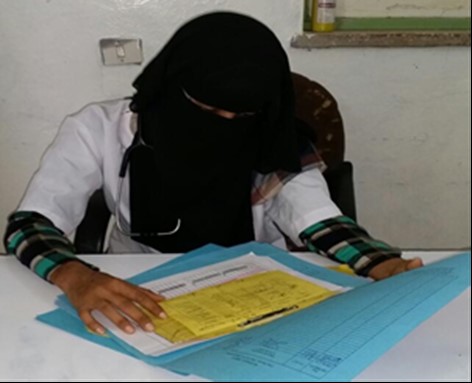 Rahma Salih, 25, is one of the midwives who received the first-round training organized by Amref. Her passion for labor and delivery, and helping women motivated her to join the health workforce as a midwife nurse. She grew up witnessing pregnant women in the Afar region refuse going to health posts to avoid physical contact with male health workers during labor and delivery. "I began to be worried about this, which among other things, is one of the reasons why women avoid going to health facilities. I was worried because I knew about the consequences of not giving birth at the health posts,'' Rahma recalled.
Rahma began to search for opportunities to make her dream a reality. She took steps towards pursuing her education and becoming a midwifery nurse. Fortunately, she received financial support from Amref-GSK for midwifery training at Semera Health Science College in Afar.
"Had it not been for Amref, my dream of becoming a midwifery nurse and serving my community, especially women, could not have been a reality. This is the success Amref Health Africa has to celebrate," said Rahma, who has been selected by Afar Regional Heath Bureau to work at Dupti Woreda as a Mobile Health Team member.
Misrak Makonnen, Country Director of Amref Health Africa in Ethiopia, recognizes GSK for its unwavering support to strengthen the health system in pastoral localities of Ethiopia and stands behind Amref's achievements in addressing the health challenges of these pastoral communities. Misrak recalls the long-standing support and significant contribution GSK has made since it partnered with Amref Health Africa.
"The Amref-GSK partnership has been ongoing for the last 25 years focusing on health systems strengthening, improving human resources for health, as one of the key building blocks. In Ethiopia, this partnership started in 2012, supporting the FMOH's Health Extension Program and the training of midwives and nurses in the most remote parts of the country. We are now seeing the benefits of this partnership, as we see graduates such as Rahma supporting her community in her health center. Now, women around Debit do not have to walk long distances to get health services they need for themselves, their children and their families. Rahma benefited from fully equipped training facilities at Semera Health Science College, with skill-lab training equipment supported by GSK. Such support in Afar, Somali and Benishangul, strengthening the health workforce, addresses one of the critical priorities of the government and the needs of the population in developing regional states, ensuring equity, by reaching those in hard to reach places."
Amref Health Africa teams up with African communities to create lasting health change.