Haimanot Yirsaw, 22, lives in Debrebirhan of North Shoa in the Amhara Regional State. She heads Meskerem, Mekides and Her Friends Partnership Enterprise, a small-scale brick production business established by a team of five vibrant young women as an income generating activity.
The enterprise was founded using start-up money granted by the 'Service, Education and Empowerment' (SEE) project of Amref Health Africa in Ethiopia, a UKAID funded project. The team underwent a long and tiresome process to get this small-scale business started. Financial constraints, local government bureaucracy, and gender role biases were among the many challenges faced. As women taking up this field of work, the enterprise team had to confront long established ideas about gender roles. They were repeatedly told to change their mind and propose different types of businesses which are socially earmarked to women, such as chores related to domestic activities. "'How can women propose to do such a job?' was the most usual remark we came across. Many thought we could soon vainly fall apart. No one from Amref Health Africa posed such a question. Amref believed in us; believed that we could be successful. Our dream and effort was to go out of home and work and change our situation. Hence, we had to be strong enough to achieve this. We are able to break this deep rooted gender role stereotype," Haimanot said.
The team members collectively feel they were not alone, which helps make them strong and persistent. "It was Amref Health Africa which spotted us first and gave us a quick response to what we wanted to do. We never gave up as Amref was with us and would make our dream a reality," Haimanot said.
Amref actively provides training and start-up grants for youth as one of its approaches to improving the livelihoods of young people, and thereby reducing their risk of sexual and reproductive health related problems. Through government channels, Amref approached the five young women, who already teamed up and sought for any charity or individual to lend a hand, and gave them 50,000 birr. In addition to financial support, through entrepreneurship focused training, Amref equipped members of the team with the necessary skills and knowledge to help them effectively run their business.  Amref believed doing this would positively impact the livelihoods of these young women in their early twenties.
Haimanot and her team's long awaited business started long after their enterprise established. Within three months, they have been able to attract several clients. On average they deliver 1,000 bricks every day. Sometimes they receive orders of up to 1,500 bricks from a single client. The team has grown productive within a very short period of time, making admirable returns on the 50,000 birr Amref invested in them. Meskerem, Mekides and Her Friends Partnership Enterprise now has over 200,000 birr worth of capital.
"Since we were longing for this day to come, we never flinched from our efforts. As we began to see our first production, the pile of bricks we made, and the fruits of our efforts, we almost immediately forgot every challenge that we as a team as well as individually underwent. We have rather become reenergized and passionate about the work we do and inspired to work day in and day out. We couldn't even plan any vacations or think of any breaks, even during public holidays."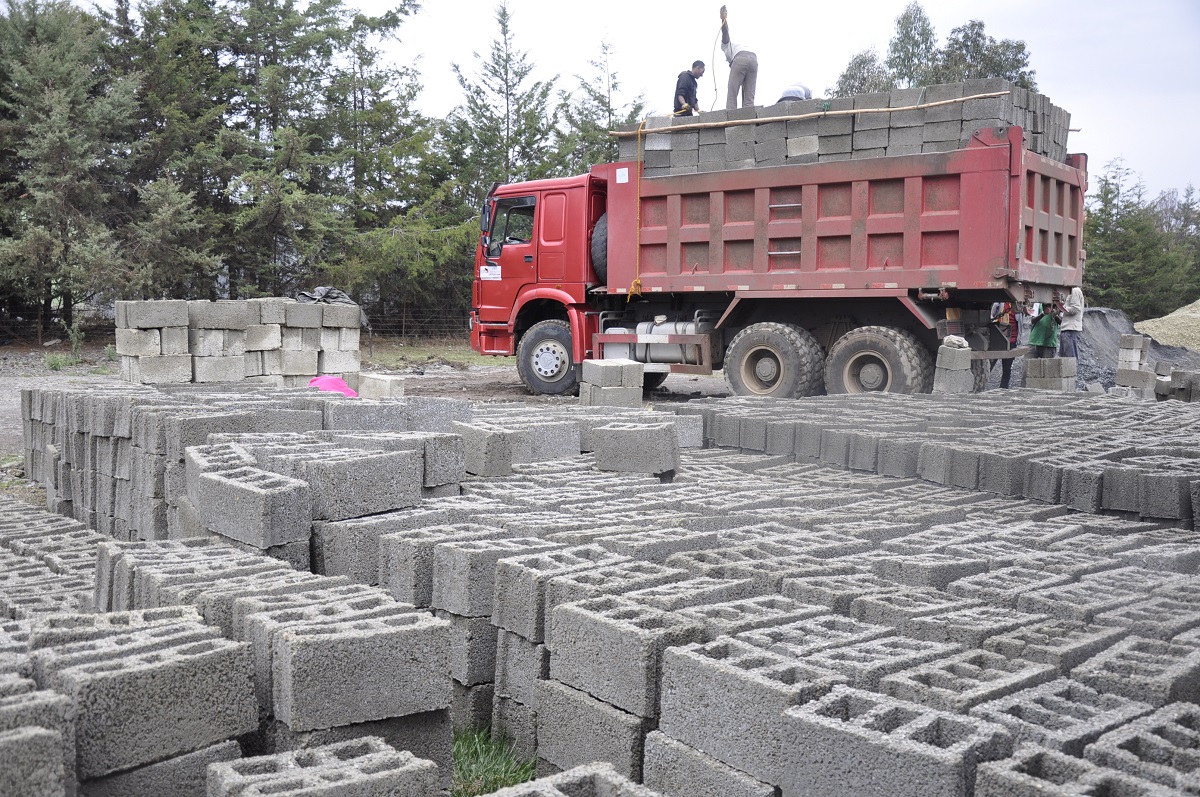 "The SEE project of Amref Health Africa saw us and opened the door of our future. We wouldn't have been able to start this business had it not been for the support the organization. We are really grateful, and hope that it will continue to back us and many other young people, especially women, who have nothing or little income for their livelihood, and who might be exposed to enormous youth related problems such as prostitution, early marriage, or unwanted pregnancy which puts their lives at risk.
Haimanot used to spend all her time at home and was very shy and reserved. Had she not been involved in this business, she could still have been confined to her home, or become like other girls of her age who are exposed to sexual and reproductive health challenges, such as unintended pregnancy. She hopes their business will progress well and expand, should they get more support from the local government, non-government organizations like Amref Health Africa, or even from individuals. The positive changes happening in the lives of Haimanot and her friends have the potential to impact other community members who might be inspired by them; therefore, the success of Haimanot and her friends' enterprise is more than an individual achievement.
Amref Health Africa teams up with African communities to create lasting health change.