In celebration of this year's World Environment Day, themed 'Beat Plastic Pollution,' Amref Health Africa is preparing to launch a new initiative that turns plastic waste, one of the biggest environmental challenges, to a business opportunity for youth income generating groups in Akaki and Yeka sub-cities in Addis Ababa. The core idea of this 'Beat Plastic Pollution' initiative is to reduce plastic waste by using used plastic as an input for the production of different materials, which can dually serve as an economic opportunity for young people.
The changing lifestyle of residents in Addis Ababa has significantly increased their consumption of plastic, and has generated massive plastic waste in the city. Until recently, plastic waste was disposed of mixed in with household, construction, and other waste. This recently changed once recycling small scale enterprises were established and began to use the waste as a resource. The start of plastic waste recycling has created a value chain by bringing the generators, collectors, and the recyclers into one system.
Amref Health Africa in Ethiopia, as part of its intervention to support solid waste management in the slums of Addis Ababa, brought together young people to engage in income generating activities, one of which is collecting solid waste, including taking plastic that has been thrown out and sending it to appropriate disposal sites. Now, in collaboration with Addis Ababa Waste Management offices, Amref Health Africa in Ethiopia has set up a new initiative to support three Income Generating Groups: Eshetaol Cleansing Service Association, Enimer Betsidat Yederek Koshasha Masweged Sira, and Askual Sanitary Work Cooperative Society, to collect plastic and turn it into income generating businesses.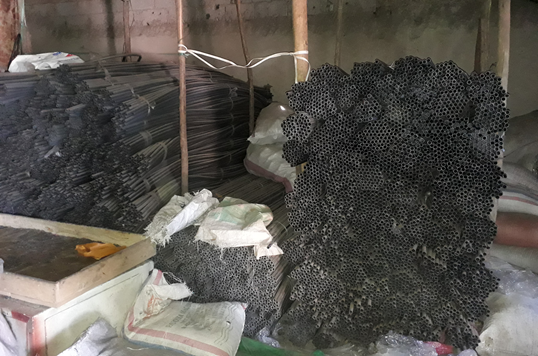 In this current initiative, the plastic collected will be crushed, recycled, and used to produce various products, such as electric conduits. Plastic bottles, in particular, will be crushed and exported to textile factories abroad. This intervention of Amref Health Africa in Ethiopia was born out of the concern that plastic, which is not decomposable, is increasingly harming the environment by being mass consumed and dumped into landfills. Through the provision of start-up grants (seed money) for IGA groups for the purchase of small scale machinery and safety materials (glove, safety clothes, safety shoes) and roll out of trainings on safety and occupational hazard, Amref Health Africa is enthusiastically supporting the efforts of beating plastic pollution, and is confident the intervention will result in positive outcomes in the years to come.
Amref Health Africa teams up with African communities to create lasting health change.